Need a car loan? We will get you a great deal!
Getting car finance can be exhausting. Apply for a car loan online with us today and let the Good Sports take care of it.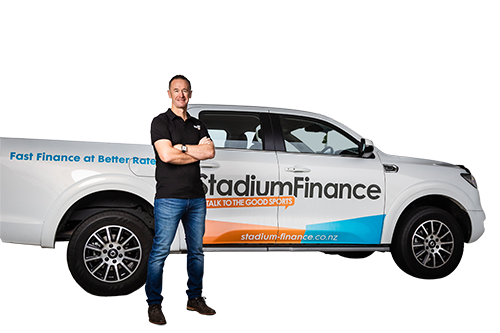 Get your car finance now with the Good Sports at Stadium Finance
We're on your side, to help you get the vehicle loan you need at the best possible rates – with minimum hassle and stress. That's why our customers call us "good sports" when it comes to car finance.
We've got a great, friendly team who have helped thousands of kiwis to buy vehicles – both new and used.
---
5 reasons to choose us for your car loan:
Easy application process.
Flexible payment options that suit you.
Outstanding rates to people with a good credit rating.
Loan terms from 12 to 60 months, depending on the loan amount and purpose.
Loan pre-approvals - we'll let you know how much you can borrow before you decide on a car.
Getting a vehicle loan through Stadium Finance is quick, easy, and we work hard to find you the best rates. Apply online today and let the Good Sports get you the best deal in town.
Your car finance will be sorted in no time!
---
APPLY ONLINE
Our online application process is easy, and it only takes a few minutes. We'll ask you questions about your financial situation, and the purchase that you intend to make.
VERIFY DETAILS
After your online application has been submitted, we'll be in touch with any details or documentation we need from you. We'll contact you within one working day.
RECEIVE FUNDS
Once approved funds will be deposited into your selected account.
Other stuff you need to know
---
What interest rate can I expect?
What will you use as security on my loan?
How old do I have to be to get a car loan?
Do I need a driver's licence go get a car loan?
Is there an early payment penalty?
Do you refinance vehicles?
Can I get a loan if I have previously defaulted?
What are other customers saying?
---
Stadium finance supported me to get my car on finance even though I don't have the best credit.

Everything was simple and easy. And ever since the day of approval I have not looked back from choosing this company.

Thank you stadium finance for everything.
Having dealt with Cath to arrange my finance it was fast friendly and very welcoming.

She made the whole process very easy and removed any stress to make it an enjoyable process and was very helpful after the process was complete to ensure I was happy
Stadium finance would have to be the absolute best finance company I have delt with.

I became very sick whilst paying off my loan and they did everything possible to help in a very human and caring manner.

Their staff were so helpful. I would recommend them to anyone.
Getting a Stadium Finance car loan is easy. Apply online today, it only takes a few minutes!